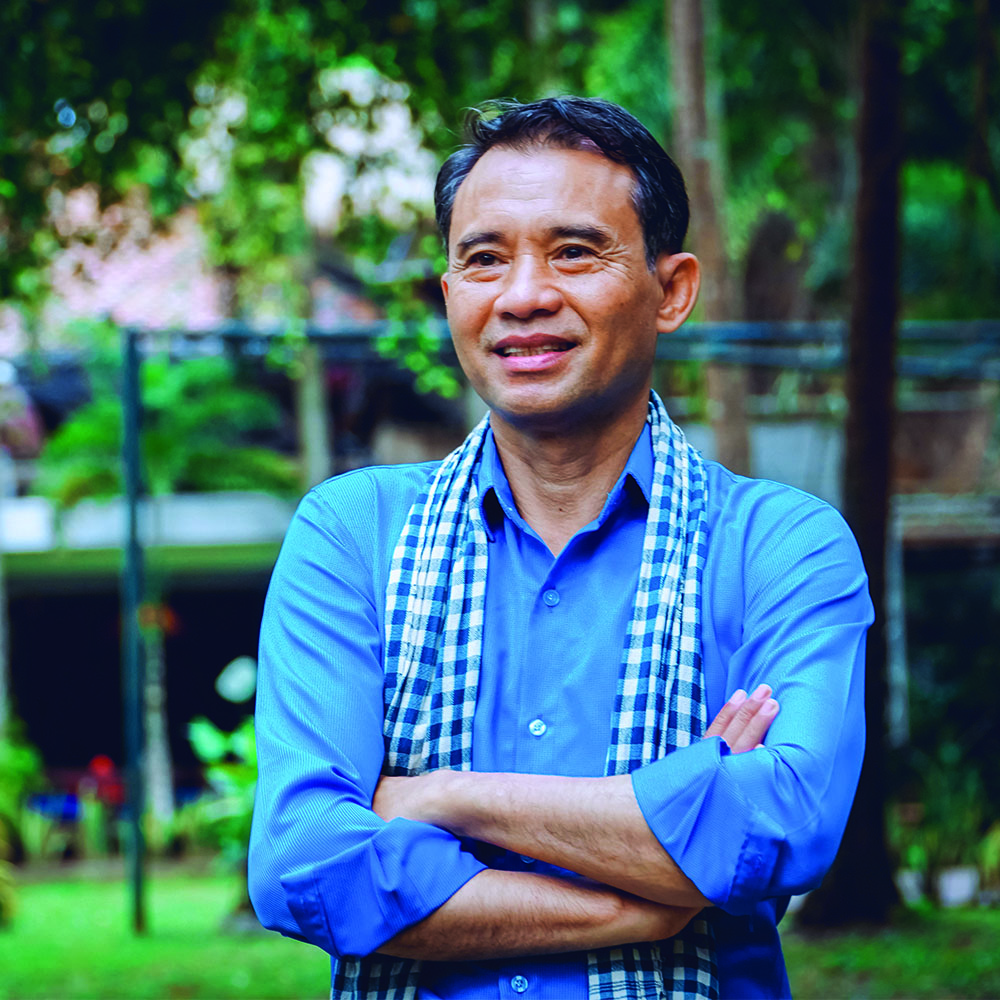 "Even today, we fail to notice that the image of Cambodia is so much more than just the Killing Fields. CLA is one small effort to rework this image of Cambodia—to instead, give something to people that they can remember; to better ourselves as a community."
Arn Chorn-Pond is a musician, survivor of the Cambodian genocide, human rights activist, and founder of Cambodian Living Arts and Living Arts International.​ . Born into a family of artists, Arn grew up in Cambodia during the Khmer Rouge regime. Sent to a child labor camp and forced to play propaganda music during that period, Arn escaped to a refugee camp on the Cambodia-Thai border, where he was adopted by Reverend Peter Pond and moved to New Hampshire.
In 1984, Arn became the first Cambodian child soldier to speak publicly about the atrocities that occurred during the Cambodian genocide, in a speech delivered to 10,000 people at the Cathedral of St. John the Divine in New York. Arn then cofounded Children of War, an organization that helps young children experiencing trauma from the byproducts of war, child abuse, poverty, racism, and divorce. After studying at Brown University and while attending Providence College, Arn co-founded the Southeast Asian Big Brothers/Big Sisters of America Association in Providence and founded Peace Makers, a US-based gang intervention program for Southeast Asian youths in Providence.
After graduating from Providence College, Arn returned to Cambodia on a mission to find the legacy of his family, who were involved in Cambodian Opera; his music teacher from the time of the Khmer Rouge; and the stars of his early childhood. Instead, he found Cambodia's few surviving master artists living in poverty.
Arn founded Cambodian Living Arts in 1998 with five inaugural students to learn from Cambodia's remaining master artists. The organization initially focused on the preservation of endangered performing art forms and rituals. After the Khmer Rouge regime, 90% of Cambodia's artists did not survive and arts that had been transmitted between generations were in danger of being lost forever.
Over the past two decades, as Cambodia continues to develop and as Cambodia's arts sector grows, Arn has helped evolve CLA's work and mission. CLA now offers scholarships, fellowships, and other training opportunities; provides employment opportunities through regular performances and festivals; and facilitates international exchanges, research, and networking for the next generation of talented Cambodians looking to build careers as artists and arts professionals.
Arn remains engaged with the organization's work, both as spokesperson and in particular with the work of The Khmer Magic Music Bus, a CLA program that brings musical performances and demonstrations to villages and communities around Cambodia that otherwise lack access to performing arts.
Arn Chorn-Pond was one of the first recipients of the Reebok Human Rights Award in 1988, and he received the 1991 Amnesty International Human Rights Award, the 1993 Kohl Foundation International Peace Prize, and the 1996 Spirit of Anne Frank Outstanding Citizen Award. Arn now lives outside of Phnom Penh.
Book Arn to Speak at Your Event:
Arn Chorn-Pond regularly shares his personal story through speeches, presentations, and workshops at conferences, high schools, and universities in the U.S. and around the world. If you are interested in Arn speaking at your next event, please contact development@cambodianlivingarts.org