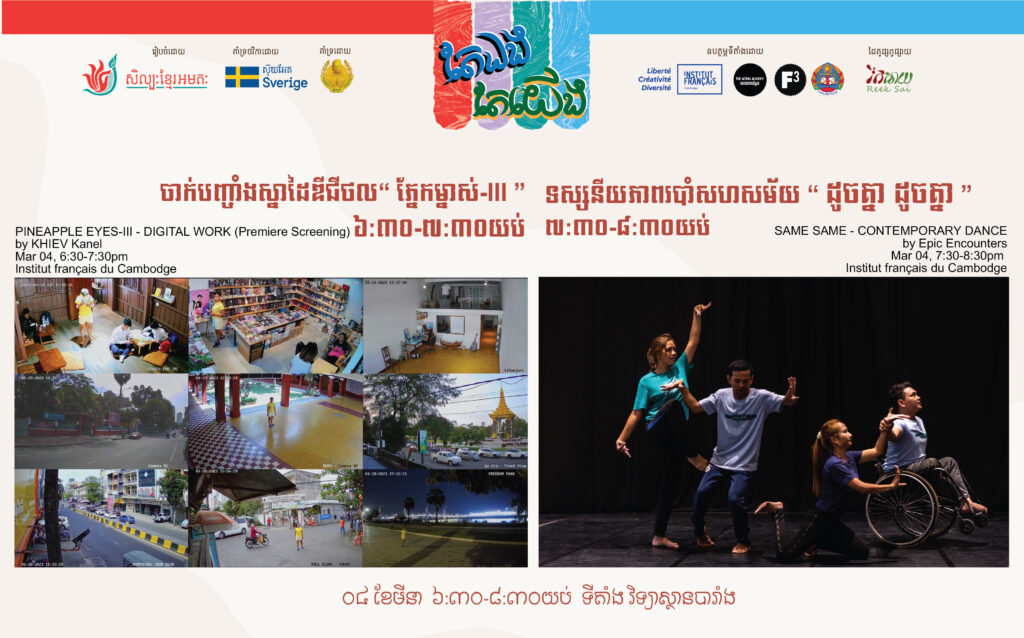 Digital Work "Pineapple Eyes-III"
In this contemporary era, surveillance has become part of our everyday life. Our physical movements are recorded, online activities are tracked, and personal information is bought and sold. We hardly notice the ubiquitous CCTV cameras that surround us indoors and outdoors, accepting their silent stares in the name of personal safety, commercial security, or traffic and crowd management. But, the same cameras that protect us can easily become tools for control and constraint, leading to a loss of privacy and freedom.
Evoking CCTV footage from locations around Phnom Penh associated with art, performance, learning, and autonomy, artist Khiev Kanel documented dancer Yon Davy, whose movements suggest imagination and playfulness, but also caution and concealment. Whether or not she is observed or ignored by passersby around her, the CCTV's eyes are always watching. Whose eyes are behind the camera? Do they belong to a corporation, the authorities, the audience, or are they our own? The gestures and actions of the performer gradually transform as she notices, exchanges and refuses the gaze of the camera and all that it stands for.
Guest Curator: SAM I-Shan, KHIEV Kanel- Video and Photography artist, YON Davy-Contemporary Dancer/Choreographer
Contemporary Dance "Same Same"
The piece will focus on highlighting and celebrating the talents of individual dancers with disabilities as a way to explore how diversity and inclusion fit into Cambodia today. Choreographed by: Epics Encounter, Artistic Advisor: CHUMVANN Sodhachivi
Location:
Institut francais du Cambodge, No. 218, Keo Chea (St. 184), 12211 Phnom Penh, Phnom Penh, Cambodia