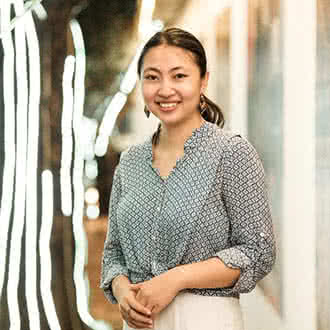 HUL Kanha
(b.1999, Siem Reap) is an artist, she is currently pursuing her English Language degree at University. Her works also propose an exchange between respective roles in society and represent it as self-reflection. Her multidisciplinary artwork mainly incorporates photography with painting, paper cutting.

Project: Women's perspective
The Women's Perspectives project aims to reflect the voices of women and want to delve deeper into the mindset related to traditional culture on Cambodian women since ancient times and continuing to have a profound effect on the freedom of expression of women today.
The perception that women do not have the ability to perform various tasks better than being a housewife has become a short slogan in Cambodian society that still influences the majority of Cambodian women. As an artist, I would like to seek the support of women in general to express their feelings to find out how to turn those negative thoughts.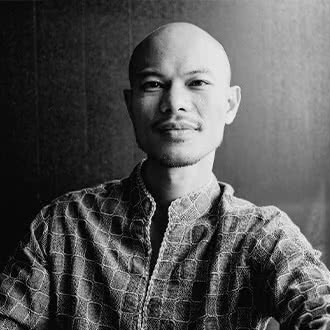 Jean-Baptiste Phou
is a French-Cambodian author and stage director. His first play « Cambodia, Here I Am » was performed in France and Cambodia between 2011 and 2012 and published in both languages in 2017.

Project: The sound piece "My Mother Tongue
"La langue de ma mère" (My Mother's Tongue/ភាសាម្តាយខ្ញុំ) is a sound piece that deals with communication issues between a mother and son who don't speak the same language. Originally written in French, It will be translated into Khmer and English for its presentation at the French Institute in March 2022.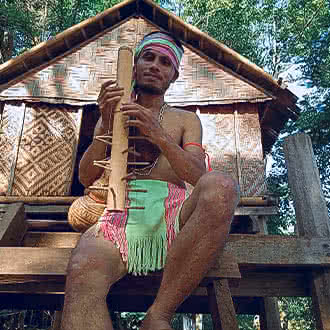 TIV Sim
is Tompoun-Kreung young leader, pursuing Master of Business Management at Build Bright University in Ratanakiri province, under the support of Arn Chorn-Pond Living Arts scholarship. He's been a development coordinator in indigenous people affair in Ratanakiri such as agriculture, education, health, environment and culture, and supports 36 underprivileged indigenous youths to continue their studies in Ratanakiri. Currently, he creates a homestay for some students and is a resort founder of indigenous people. He could speak 6 languages including Tompoun, Kreung, Khmer, English, Brao and Kavet. He is also a Tuberculosis project coordinator in Steung Treng Referral Hospital.
Project: Empowering creative initiative for indigenous people art preservation is a research project of endangered music including Chapei Khlok, Kley and Mem. These instruments have been shared by 4 indigenous communities including Kavet, Tompoun, Kreung and Jarai who reside in Kachon village, Tong Nong Leh village, Kalim village, L'eun Chorng village and Tharang village in Ratanakiri. These musical instruments are endangered, especially for their techniques in making and playing. This project is started with research to seek for instrument expert makers and to form committee to evaluate their sound quality and appearance, video shooting, writing and publishing, performing and promoting through exhibition and on social media.
CHHOUNG Veasna
is currently a student at the Royal University of Fine Arts, majoring in Traditional Dance, as a choreographer and an independent artist. He also used to perform in national and international programs.

Project: Lakhon Berk Bort
This project will further research on the Lakhon Berk Bort form for documentation and presentation as a performance and book.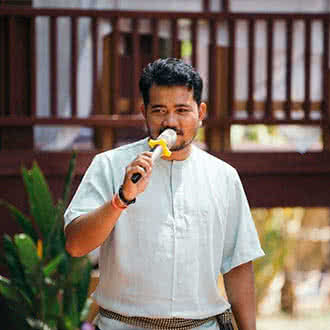 NEN Phearith
is currently the leader of the Phearith Lakhaon Niyay, as well as the theatre director.

Project: Short Theater training course in community
A part-time course to share and learn the basics of acting, theory, practice, and script writing.
This project will be an important part of contributing to the development of the resources of theatrical artists and promote the art of theatre to the wider community, especially young men and women.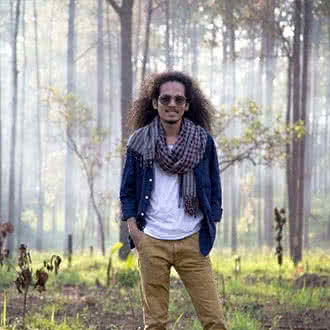 YEAN Reaksmey
is an art curator, writer, and researcher; and a program director of Silapak Trotchaek Pneik (STP), a contemporary art space by YK Art House. He is also a part-time art history lecturer at CamTech University and an LL.M. student in Public International Law at the Royal University of Law and Economics and the University of Paris 8.
Project: 40 years of Srey Bondol's artistic life is a four years project research to document the work and his biography since 1980 (making arts work during the refugee camp) till 2021. The project aims to do digitalization, photograph, and publish a catalog, retrospective exhibition, and open to the public through the Bophana Center.